Team Manager Resources
---
Resources For Richmond Jets Team Managers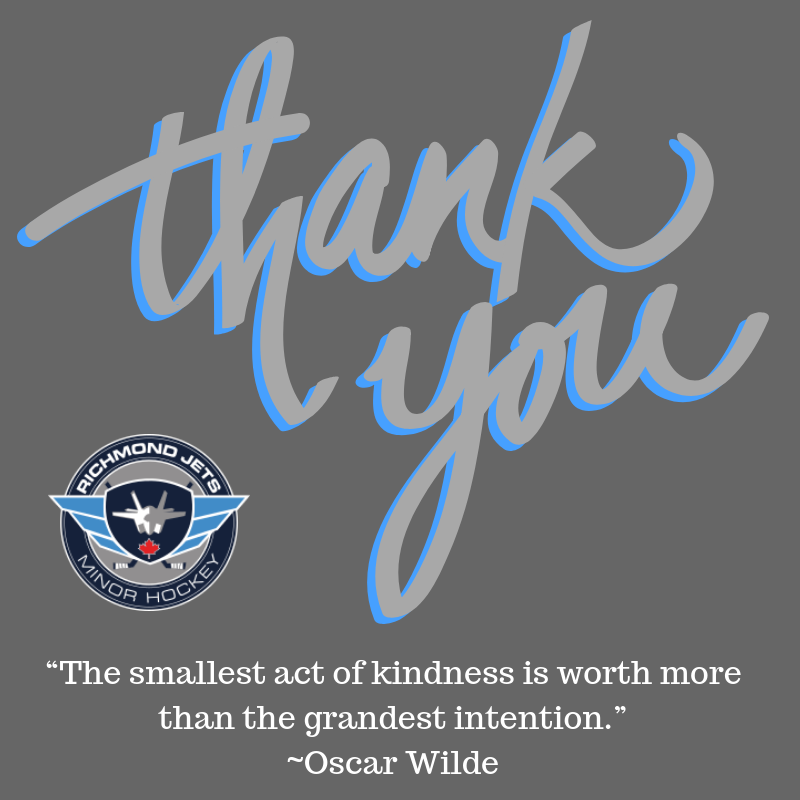 Thank you for all you do!
To be rostered as a Team Manager you are required to do the following
(1) If you don't already have a profile in the Hockey Canada Registry, contact Tina O'Connor to create one for you.
(2) Complete a Criminal Records Check (CRC) and Vulnerable Persons Check (VPC). See below for instructions.
(3) Complete the BC Hockey online course, Respect in Sport for Activity Leaders. Details below. The cost of this course will be reimbursed.
(4) Complete the BC Hockey online course, Concussion Awareness Training Tool. There is no charge for this course.
50/50
Teams who wish to sell 50/50 or raffle tickets during their home games MUST apply for a Class D BC Gaming License. Richmond Jets Minor Hockey Association is NOT responsible for applying for the Gaming Licence. Board Members should NOT be listed as Responsible Persons. Managers/Parents/Coaches etc are responsible for BOTH the APPLICATION and the GAMING LICENCE REVENUE REPORT. You will be required to fill in the GAMING LICENCE REVENUE REPORT. In order for you to fill in this form, you will need to track the dates and amounts of each draw.
Once you know your home ice times you can apply for the gaming licence. Here is the link: http://www.gaming.gov.bc.ca/licences/classD.htm Please ensure that you have read the guidelines and standard procedures.
To apply, you'll be required to submit:
• Completed online application form for a Class D Gaming Event Licence; and
• A non-refundable $10 processing fee, payable by credit card only over a secure Ministry of Finance payment system.
Information you'll be required to put on your application includes:
• The full name and address of your group or organization and its general purpose;
• The event location, date and time;
• Type of gaming event (raffle, bingo) and the amount of tickets/sales pricing and prize details; and
• How the net proceeds (funds) will be used to benefit the community, a specified third party, or the group or organization.
Click the "Apply Online" link Type in your team name using the following format: Association - Division - Team - Number - Name - Year (RJMHA) (Peewee) (A) (1) (Jets) (2018-2019) Example: RJMHA Peewee A1 Jets 2018-2019
Apparel and Teamwear
Official Jets apparel and teamwear is available from Cyclone Taylor Sports and Real Hip Clothing.
The Board member who is responsible for apparel is Alex Levin.
Bank accounts
You may open your team bank account at any financial institution. Please make sure that two signatures are required for withdrawals. If required, please have Robert Wagner or Hanif Hamir, our Treasurer write a letter, confirming the signing officers.
G and F (West Richmond) has a special offer for our teams.
Clinic and On-Line Course Registration (Respect in Sport for Activity Leaders, Hockey Canada Safety Person, Concussion Awareness Training Tool, etc)
Link to register for clinics and courses
Course Reimbursement
Use this form to claim course expenses
Criminal Record Check and Vulnerable Persons Check
Richmond Jets Minor Hockey Association requires that all volunteers within the Association obtain a criminal record check (CRC) and vulnerable persons check (VPC). Once they have been completed, they are considered valid for three (3) seasons.
To obtain a Criminal Record Check and Vulnerable Person Check:
Please follow the link to the British Columbia Ministry of Justice criminal record check site:
https://justice.gov.bc.ca/eCRC/
RJMHA access code: RDXVQWH9CU
The completed criminal record check will be forwarded directly from the Ministry of Justice to the RJMHA Director of Risk Management.
Please note: If your birthdate matches a known sex offender, you will be required to provide fingerprints and the process may take additional time. The purpose of the fingerprinting is to ensure there has not been a name change in an attempt to avoid detection; it is not because of suspicion of you personally.
Should you have any questions regarding the criminal record check process, please contact RJMHA Risk Management at crc@richmondjetsmha.com or BC Hockey at crc@bchockey.net.
ePACT
If you are your families have questions about ePACT, please contact Carolyn Hart Carolyn.Hart@richmondjetsmha.com
When you add affiliates or casual players to your roster, please ask Tina O'Connor to also add them to your ePACT group. This will ensure that your Safety Person has information for all rostered players.
Families should be reminded that ePACT records can and should be updated at any time during the season (if an allergy is diagnosed or if a cell number changes, for example).
Equipment
Jerseys, first aid kits, goalie equipment, hockey socks, pucks, etc. Please contact Ken Hamaguchi Ken.Hamaguchi@richmondjetsmha.com
Ice
Our Ice Scheduler is Nadine Bayley ice@richmondjetsmha.com
Injury Reports and Return to Play -
Hockey Canada Injury Report Form
Hockey Canada Return to Play Form
Purdy's Fundraiser
We will be holding an optional Purdys fundraiser that all teams/families are welcome to participate in. 15% of net proceeds to will go to the player's team. 10% of the net proceeds will be retained the Association. Deadline for online orders is November 28. Pick up will be December 8th.
Referees
The Referee Scheduler for Atom and PeeWee is Teresa Vozza. tvozza@shaw.ca
Referee/Linesman Expense Allowances
Referee and linesmen expense allowances for all games within the PCAHA shall be in accordance with the following schedule:
Division 3-Person System 2-Person System
Novice Not applicable $15.00/$15.00
Atom $22.00/$15.00/$15.00 $22.00/$22.00
PeeWee $29.00/$17.00/$17.00 $29.00/$29.00
Bantam $39.00/$27.00/$27.00 $39.00/$39.00
Midget $45.00/$30.00/$30.00 $45.00/$45.00
Juvenile $52.00/$34.00/$34.00 $52.00/$52.00
Icetimes of 2 hours and greater ......... $7.00/$7.00/$7.00 (additional allowance)
Icetimes of 2½ hours and greater ...... $10.00/$10.00/$10.00 (additional allowance)
-Applicable to the PeeWee, Bantam, Midget, and Juvenile divisions only.
No rates in excess of the above schedule shall be permitted (including all exhibition, league, playoff, and tournament/jamboree games).
Where fewer than the required number of on-ice officials appear for a game, those official(s) in attendance shall be paid a single referee's expense allowance.
School Gym Bookings
To arrange for a school gym, please contact Tina O'Connor Tina.OConnor@richmondjetsmha.com
Special Sanctions
The purpose of sanctioning a special event is to extend Hockey Canada Insurance Program coverage such as Major Medical / Dental Coverage to activities that do not fall under regular hockey programming.
Special Event Sanctions are for events such as dryland training, fundraisers, and other activities outside of regular on-ice hockey programming.
Please contact Tina O'Connor for assistance with a Special Sanction. Tina.OConnor@richmondjetsmha.com
Tournaments
Tournament Permissions
For tournaments outside PCAHA but within BC, you will need to complete a PCAHA Interdistrict Travel / Exhibition Game Permission Request
For tournaments outside of BC, you will need to complete an Out of Province and USA Hockey Tournament Travel and Exhibition Game Form
Please note the Association address is PO Box 94488, Richmond, BC V6Y 2V6
Bantam, Midget and Juvenile Tournament Permissions will be provided by Nigel.Shackles@richmondjetsmha.com
Novice, Atom and PeeWee Tournament Permissions will be provided by Carolyn.Hart@richmondjetsmha.com
PLEASE NOTE, WE DO OUR BEST TO KEEP THIS CALENDAR ACCURATE AND UP TO DATE.
PLEASE CONFIRM ALL EVENTS/DATES.